Welcome to "50 Reasons Not To Have Kids, and what to do if you have them anyway"
"The pressures of being a parent are equal to any pressure on earth..." To be a conscious parent, and really look to that little being's mental and physical health, is a responsibility which most of us, including me, avoid most of the time because it's too hard." John Lennon - The Beatles
In this refreshingly honest book you will discover:
How to avoid the biggest mistakes in parenting
How to improve your parenting skills
How to develop a family plan
How to be a better parent
How to conquer your fear of being childless
How to decide if having children is right for you
How to live life on your own terms
How to have a lot more money and time to spend it
How to keep what precious freedom you still have
How to lose the guilt about being childfree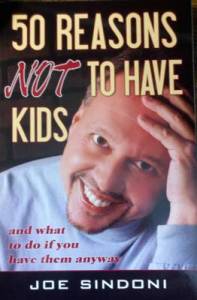 What Readers Are Saying
Terry Smith (Mother) - Upper Darby, PA
As a very happy mother of two wonderful children the title seemed a bit offensive, but this book was not offensive at all. Joe's writing style is engaging, entertaining, and informative. But most of all it is honest. I think it should be read by all parents. And most especially by those considering one of the most challenging roles in life - parenthood.
Ryan Cooly - (College Student) San Francisco
This book is a heavy dose of reality! Like a lot of people my age, I really don't know if I even want to have kids. But at least now I have a heads-up. This should be read in college, especially by those who are having kids without giving it any thought.
Paige Calabrow (Teacher) Wildwood Crest, New Jersey
If you're considering having children you must read this book. If you choose not to have kids you'll appreciate this book. If you have kids you'll learn, laugh, and realize you are not alone.