About the Book
Have you ever wished you had children?
Or have you ever wished you didn't have children??
Do you some day want to have children?
Or do you want to live your life without having children??
Are you struggling with not being able to have children?
Or struggling with the challenges of having children??
Whatever side you're on, you are not alone!
Are you getting pressure to have kids?
Or are the pressures of raising kids crushing you??
Does your spouse want kids, but you don't?
Or are others making you feel selfish for not having kids??
Have you ever thought you "missed out" by not having kids?
Or do you think you'll miss out if you don't have kids??
All these questions are tackled head on - without all the political, or parental, correctness!
50 Reasons Not to Have Kids encourages all of us in the child bearing years to realize that family planning means more than birth control, and spells out, from A to Z, the things to consider before starting a family. It's a voice of reason to those with unreasonable expectations of what being a parent, and raising children, is all about. It discusses a broad range of topics with heart-aching honesty and home-spun humor.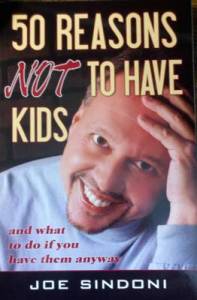 What Readers Are Saying
Bill E. Carlin - Merchant Marine
"Open to any page. Funny, intelligent, & honest."
Margaret A. Wills (Finksburg, MD)
"Loved the book and couldn't put it down. Don't let the title fool you--it's full of great advice to prepare you for having kids. Should be required reading for high school kids."
Ida Dangola (New Jersey)
As a parent, I found each reason to have merit, full of insightful analogies and information splashed with humor. The author shares his experience as a single parent in a truthful and inspiring manner. Well researched and supported, he often supports his observations and opinions with info from well respected sources and world figures."