Events, Signings, Appearances
If you would like to have Joe speak at your function (schools, community events, PTA's, church groups, etc.) contact joe@50reasons.com.
Please check back frequently, events are subject to change and new engagements are added frequently.
---
NEWS & PRESS
Click on link to read article
BLOG
Click on link to visit my blog
---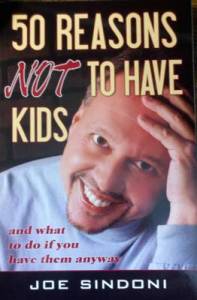 What Readers Are Saying
Lil Santilla (Mother) - Springfield, PA
"50 Reasons Not To Have Kids... and what to do if you have them anyway, may be the most pro-kid book ever written. Written with an honesty rarely seen in parenting books."
John Egan (Computer Programmer) - Glenolden, Pennsylvania
Being a divorced parent I did not want to have any more children. This is an ongoing source of contention with many women, especially in their 30's with their "biological clock" ticking. Now all I have to do is hand them this book and I'm off the hook.
Charlie Flagillio - (Retired Investor) Ocean City, Maryland
This may be the most honest book ever written on what it's like having kids in today's world. So many books tell about how wonderful parenting is. It's about time someone who has kids told about the down side. This is a must read for anyone who is thinking about having kids.